Spruce tip planters are a great way to add some color to the outdoors during a long Minnesota winter. If you haven't created your own spruce tip planters before, the idea may seem overwhelming. The best tip for beginners is to keep it simple. Follow these step-by-step instructions to create an easy spruce tip pot.
Gather Your Supplies
Spruce tips (about 5 spruce tips per 12″-14″ pot)
Branches – Dogwood, Willow, Birch, etc.
Evergreen boughs – Juniper, White Pine, Cedar, Balsam
Pruners
Gloves
Pot with soil
Pinecones
Decorations
---
Trim Your Spruce Tips
Trim the side branches from the lower 6″-8″ of each spruce tip.
Trim about 1″ off the bottom of the spruce tip stem.
Place Your Spruce Tips
Place the tallest spruce tip in the center of the pot. Push it down until 6″-8″ of the stem is in the soil.
Add the remaining four spruce tips around the center spruce tip.
Add Branches
Add dogwood, willow, birch, or other branches inside of spruce tips. Trim branches if they are too tall.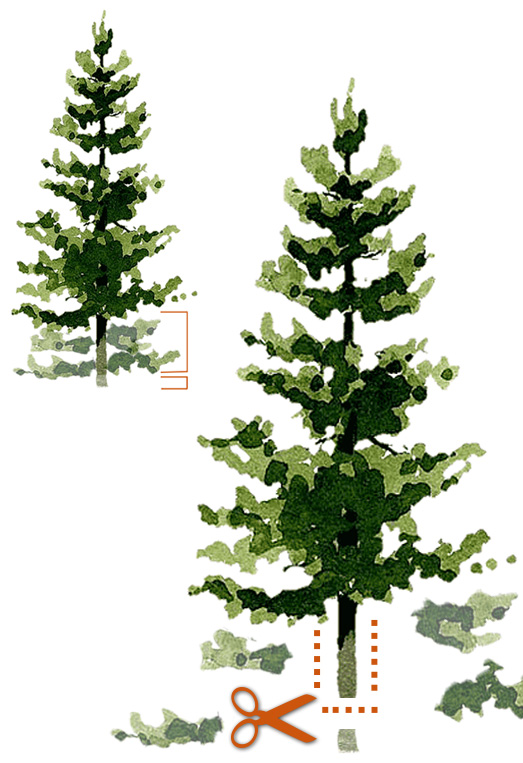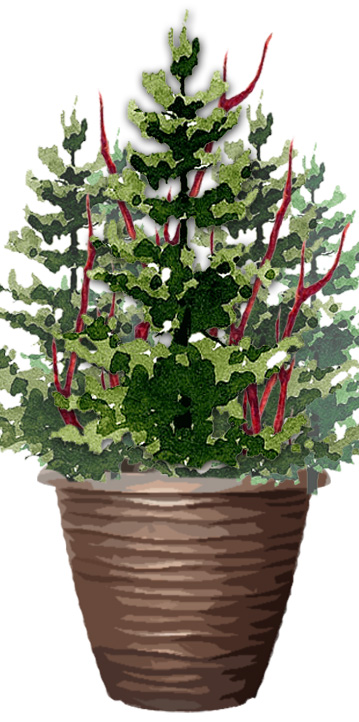 ---
Add Balsam
Trim Balsam boughs. Place taller pieces among spruce tips and smaller pieces around the edge of the pot to cover any exposed soil.
Add White Pine
Trim White Pine boughs. Place taller pieces among spruce tips and use smaller pieces around the edge of the pot.
Add Cedar
Trim Cedar boughs. Place taller pieces among the spruce tips and drap smaller pieces over the edge of the pot.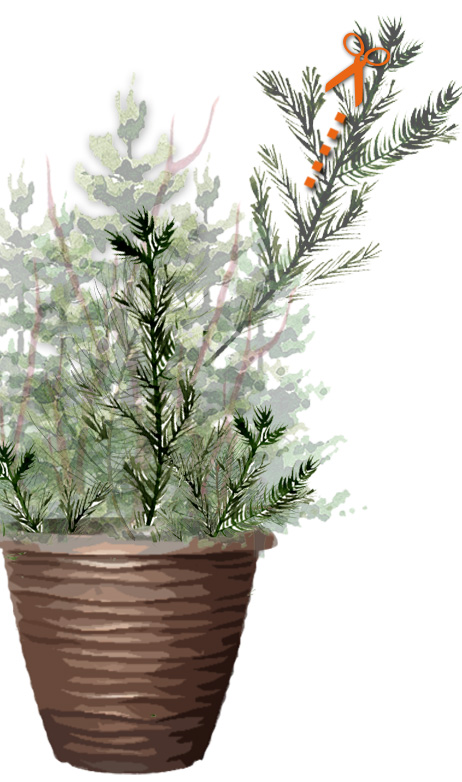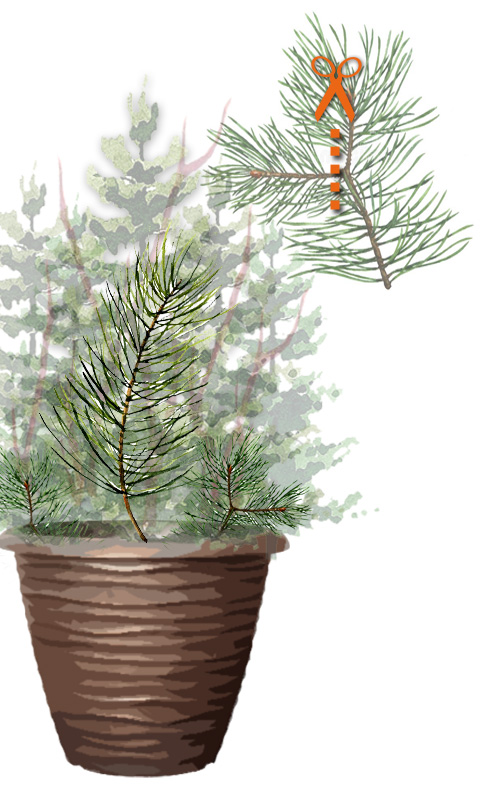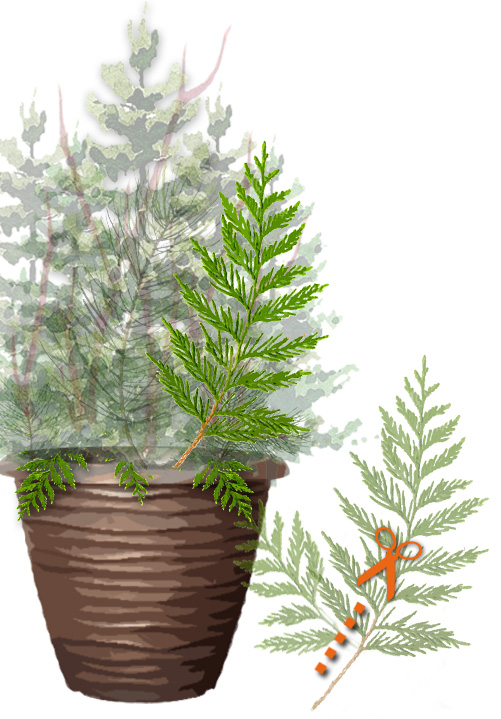 ---
Add Juniper
Trim Juiper if needed and place pieces near the front edge of the pot.
Add Pinecones
Place pinecones. If you would like them near the edge of the pot you may need to trim the sticks.
Add Decorations
Place berry stems near the front of the pot or attach birds to an evergreen branch.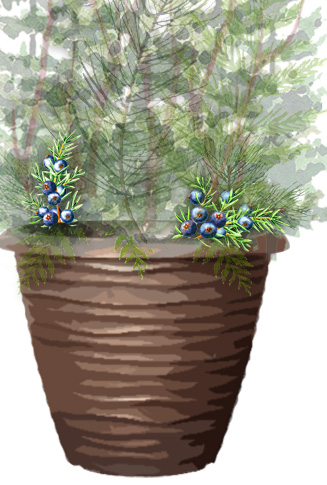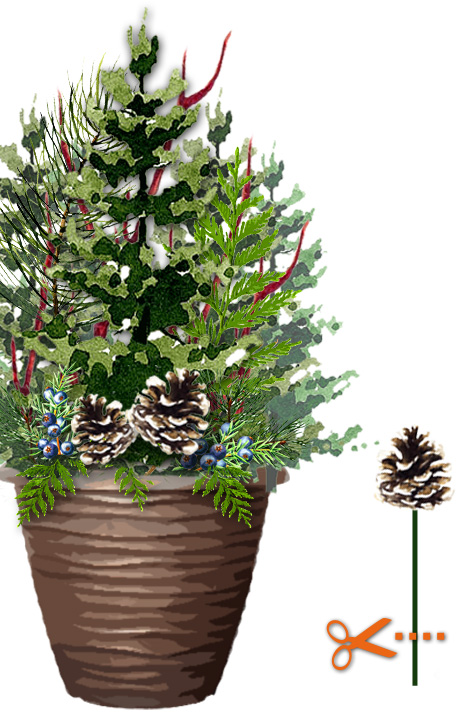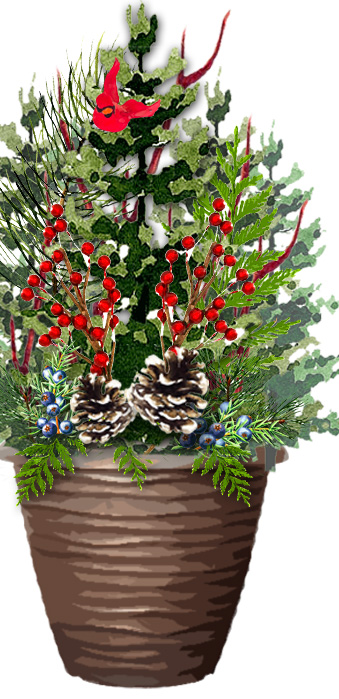 ---
Water Your Finished Spruce Tip Pot
Place your pot where you want it and water to moisten the soil until it freezes. Fresh evergreens will continue to take up water like a fresh Christmas tree. Watering your pot will keep it fresh all season.
Stop into one of our garden centers to pick up all of your spruce tip pot supplies, a spruce tip pot kit (available mid-November), or a finished spruce tip pot.